2019년 07월호 지면기사 / written|Sangmin Han_han@autoelectronics.co.kr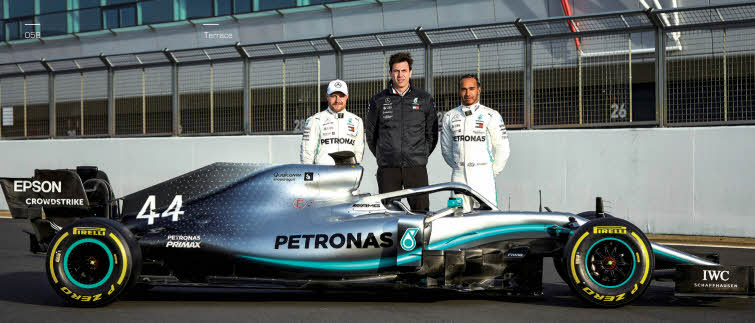 Valtteri Bottas, Toto Wolff and Lewis Hamilton of the Petronas team pose in front of the AMG F1 W10 EQ POWER+ at the Silverstone.




THE VALUE AND REALIZATION OF AUTOMOTIVE DATA
WHY DID PETRONAS WORK WITH HPE?
Interview with Suk-won Chung, HPE Korea

In May this year, I met Suk-won Chung, Director of the Hybrid IT AI/HPC division in HPE Korea, to discuss about mega-trends of automotive industry in the era of the fourth industrial revolution. Then he introduced the interesting case of the partnership between Mercedes-AMG Petronas Motorsport team, Lewis Hamilton and HPE at the end of last year. I have thought that was a perfect example of the role of HPE, proving 'The value of automotive data and its realization'. Here is a Q&A.

written|Sangmin Han_han@autoelectronics.co.kr
Prologue /
The intersection of data and driver competence
---

"I'm familiar with IT. Because my father worked at IT department of British Rail, then he set up own IT & Network company, since I was 18 years old, I have been running a test run on IT companies' mainframes."

At HPE Discover 2018 Madrid, hosted by Hewlett Packard Enterprise (HPE) in November 2018, Lewis Hamilton, the BEST racing driver, talked with HPE's CEO Antonio Neri.

Just after Hamilton had lifted the trophy in Abu Dhabi, he flied to Madrid. Mercedes-AMG Petronas Motorsport team has been a double champion for five consecutive years, finalizing the 2018 F1 World Drivers and Constructors final. He has been called the first-generation video game driver as he trained with a large simulator. However, Hamilton is not working with HPE just because he is closed with IT. Why did Hamilton come to Madrid?

The top single sitter racing F1, organized by the FIA, has been dominated by top-notch drivers, genius engineers and machines. Racing teams need a combination of sophisticated car engineering as well as an excellent on-the-track strategy to win the competition.

But this paradigm is changing. The digitalization of racing and engineering processes is having a significant impact on the F1 team strategy. IT is involved in racing with high-performance computing systems for cutting-edge engineering, R&D, testing and simulation in pre-race, racing moments and post-race processes.

The team implemented a new platform for power engineering and test applications, including racing simulation and computer fluid dynamics. It has undertaken a new value-proof project to apply and automate machine learning in areas such as complex computer analysis and computer vision. The team analyzed the data more quickly and efficiently and gained better insight into the data, increasing opportunities for innovation by reducing development time and enabling more accurate and faster decision-making in racing.

Toto Wolf, CEO of Petronas Motor Sports team, says that more than 95 percent of racing is determined by data. Therefore, the task of the team is to deal with the intersection of human capabilities and science in the data-driven world, in other words, to do "data", and there is no visceral decision on this process.

---
Q.

Last year, HPE highlighted three new solutions at HPE Discover Madrid: HPE Edgeline Converged System, HPE Intelligent Storage, and HPE Hybrid Composable Cloud. At that time, Petronas Motorsport team and Lewis Hamilton, one of the drivers in the team, were invited. Exactly what was HPE's proof-of-value about solution? Is it for a new HPE Edgeline Converged System? Otherwise, is it related to others?
A. It is about HPE edge-to-cloud platforms with HPE Pointnext services. HPE Pointnext is HPE's professional IT consulting brand that delivers change and innovation to support a change of corporate IT environment.
Recognising that organisations that harness data – and have the speed and agility to learn from and quickly act on it – will be the winners, HPE is focused on developing intelligent solutions that allow customers to capture, analyse and act upon data seamlessly from edge to cloud.

The Mercedes-AMG Petronas Motorsport team benefits from a solution that has been designed and built by advisory services from HPE Pointnext, as well as innovative software solutions from HPE.

High speed technology which enables a motor sports team to analyze real-time data from more than 300 sensors per unit and 500 terabytes of data derived from the overall race in a very short time was needed for the motorsports team to be able to apply meaningful data to the next race. Also, the motor sports team needed a HPC system to manufacture a successful F1 racing machine. HPE provided the AI system and storage as well as thousands of Edgeline Moonshot systems. HPE's Pointnext consulting services for leveraging all the architecture was also provided to the team.


Q. Why did HPE decide to cooperate with Petronas Motorsport team?
A. The future belongs to the fast - and nowhere is that truer than within the world of Formula One racing. From its inception, Formula One has been ruled by daring drivers and genius mechanics. But today, the digitization of cars and engineering processes means that big data is increasingly vital to a F1 team strategy.

Our sponsorship of Mercedes-AMG Petronas Motorsport is all about bringing the power of the world's best technology and services to a team with a history of innovation to fuel performance at the highest possible level. We are thrilled to support Mercedes-AMG Petronas Motorsport on their digital transformation journey and look forward to working alongside their team members to unlock new levels of innovation and performance - both on and off the track.


Q. What goals, challenges and methodologies did both companies' teams push ahead with this project?
A. HPE has joined the team to help pair its high-performance race cars with advanced IT engineering. In a sport where split seconds make the difference, HPE technologies and HPE Pointnext help this F1 team gain new technology advantages to power its drivers around the track.

HPE Pointnext developed a business value framework that mapped the Mercedes AMG Petronas Motorsport business goals to innovative HPE solutions that enable them to accelerate performance on and off the track. The winning requires a flawless combination of sophisticated auto engineering and shrewd on-the-track strategy. The right IT is critical at every stage of the race—starting well before race day with the High-Performance Compute(HPC) systems required to power state-of-the-art engineering, R&D, testing, and simulations.

In partnership with HPE, Mercedes-AMG Petronas Motorsport aimed to hunt for new ways to leverage state-of-the-art technology. Their priority is the area of 'car engineering'. The team implemented new platforms to power engineering and test applications, including race simulation and computational fluid dynamics. In parallel, through a proof-of-value project, Mercedes-AMG Petronas Motorsport is exploring ways to automate and leverage machine learning in areas such as computer vision and complex computational analysis. HPE is looking forward to working alongside their team members to unlock new levels of innovation and performance both on and off the track.

HPE's CEO Antonio Neri and Petronas machine
Q. Prior to the official announcement, when did the collaboration start between HPE and the Petronas Motorsport team?
A. Prior to this partnership announcement in June 2018, the HPE hardware installation had already been completed at the Petronas Motorsport team's factory in Brackley, UK. This deployment includes the Moonshot and Apollo high-performance computing (HPC) systems, which have been integrated into the on-site data center. This provides a platform to enhance performance and accuracy, helping the team run complex race simulations, giving engineers additional information and insights to positively impact the team's race strategy and simulations by reducing the time taken to complete complex tasks. This project has allowed the team to reduce event simulation time from 3 days to 1 day.
Q. Commonly, there is the saying that 95% in a car racing depend on data. How quickly does HPE Solution collect, analyze and provide much meaningful data?
A. HPE solution can analyse over 500GB to 600GB sensor data through the billions of data points in a racing car which has about over 200 sensors. Through the simulation of data analysis, the team can figure out the problems easily and can shorten the time needed to find a resolution. For example, the process for solving a problem took 4 weeks previously, but now it takes only one day.


Q. The types of data which is collected, analyzed and used in factory and tracks are likely to have slightly difference. Please explain about which data and process will affect the function, performance innovation, adjustment and driver's decision of the F1 machine in the factory and track.
A. Telemetry data from sensors, governing body (FIA), simulations, computational fluid dynamic models, tv broadcast, wind tunnel and various other areas are collated and analysed as part of a continuous loop of information that is processed at the factory and provided to the edge to provide feedback to the development of the car and the driver.


Q. We know that HPE worked before with Formula E teams, in similar ways to this project. Is there any difference in terms of the goal and the technological progress in this specific cooperation?
A. VENTURI Formula E has selected HPE as its Official Technology Partner to enhance efficient team workflow and assist with flawless race execution, on and off the track. HPE, along with various tech experts, provided the VENTURI Formula E team with the next-generation platform that is set to enhance both efficiency and performance of the team. The company also enabled the team to further improve with its innovative tech strategy which includes world-first artificial intelligence (AI) solutions. Specially, HPE helps the team to store data in an optimal format for the team to make minute by minute decisions providing HPE's Edgeline servers, HPE Aruba networking and StorEasy Storage Solutions.

HPE's infrastructure and data analytics solutions can give the team the computing horsepower needed to manipulate the massive dataset, providing a guidebook and set of templates from which the team can work. During race day, Through storing data in an optimal format, the team can make minute by minute decisions. It can help race engineers to analyze data between sessions to inform strategies for the next race, as well as make adjustments to the car. After race, the team is using HPE's solutions to shape unwieldy data into knowledge that can then be applied back to the market—or race track—as quickly as possible.

In case of Petronas Motorsport, The entire process, consulting and operation for the adoption of new IT technology services was conducted by HPE Pointnext. HPE provides more improved information through Apollo high-performance computing (HPC) system.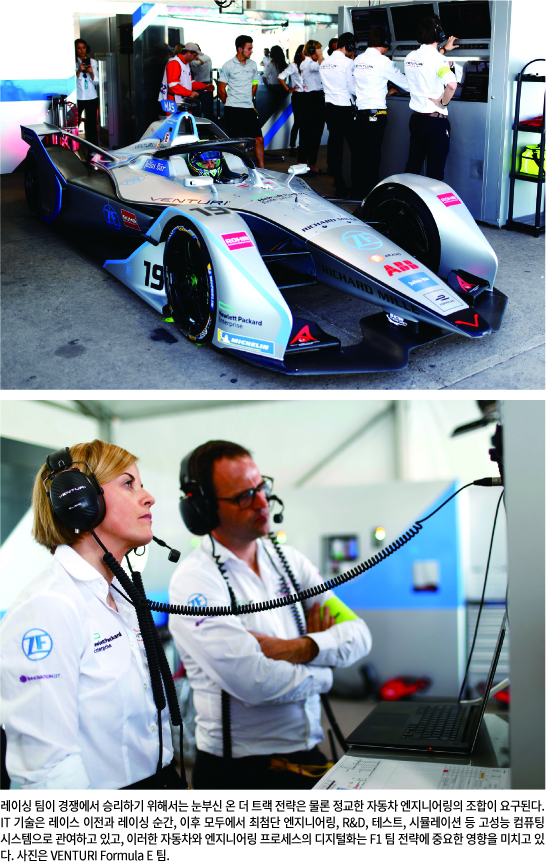 VENTURI Formula E has selected HPE as its Official Technology Partner to enhance efficient team workflow and assist with flawless race execution, on and off the track.
Q. The case of Petronas Motorsport team is a proof-of- value of many automotive-specific areas and applications that HPE's solutions can be introduced and innovated. For example, there are many keywords such as connected cars, autonomous driving, new mobility, electronics, and digital factories. Specifically, which parts does HPE want to apply its solutions for automotive companies and to suggest making them participate in innovation?
A. HPE has emphasized blueprints on next-generation mobile devices such as connected cars, autonomous driving, new mobility, electrification, and digital factory. Recently, in MWC 2019 HPE has launched a block chain-based data monetization platform with Continental. This platform aims to introduce new digital services for driver safety and convenience improvement.

In the case of connected and autonomous vehicles, data sharing across automotive brands is key to providing driver-assistance services that help drivers avoid traffic hazards and find the most convenient, practical and efficient travel routes – for example real-time traffic warnings and locating available parking. The two companies will also provide vehicle data exchange and vehicle backend systems and additional services to promote vehicle data integration.


Q. It is major question in automotive area whether to store huge amounts of data emerging from car into cloud or car. What do you think about it?
A. Storing data in the cloud is a very important strategy. The stored data can be consistently leveraged and play an important role in developing new technology. As with the automobile industry in Korea, overseas export takes up a large part of most global automotive companies. Therefore, data collected from each country should be available anytime and anywhere. Utilizing the cloud is very important in this area.

However, if all the data collected is uploaded directly to the cloud, it will potentially create a transmission load with too much data, so the optimized data from the vehicle should be transmitted to the cloud. The technology required for solving this problem is professional and efficient edge computing technology


Q. Every provider in same industry have similar selling points. What are the competitive advantages of HPE?
A. Through the HPE Pointnext service, HPE can provide not only to a variety of IT products but also to one-stop services including IT consultation, consulting and operation management for digital transformation to customers. Besides, it can widen the range of client's choice by providing flexible solutions which are available to combine with existing products or other brand products.

HPE Pointnext is HPE's professional IT services brand that provides a change and an innovation according to a change of corporate IT environment. HPE Pointnext manages from the introduction of solution to operation, being divided into three areas solution consultation, design and construction, and service operation management.

HPE Pointnext offers an advisory service to enhance the team's operational efficiency, car performance and overall technology capability, a multi-year technology roadmap, with phased product and process implementation across the factory and trackside operations, to improve performance and capability, while furthering the team's engineering excellence.
In addition, the Petronas Motorsport Team can gain its help to improve performance and effectiveness through consulting on the introduction and application of next-generation IT technology as an integrated solution service from HPE Pointnext.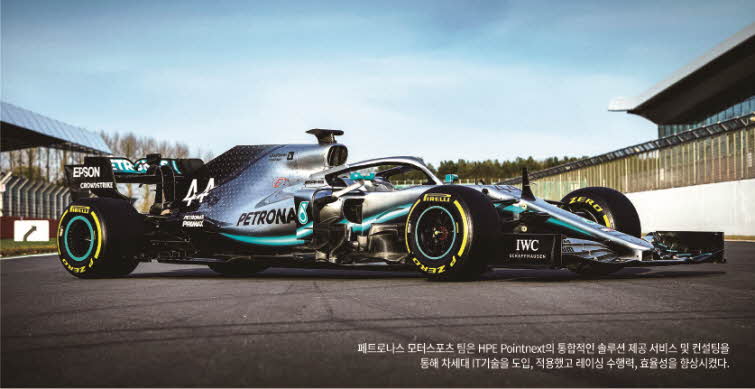 ---

AEM_Automotive Electronics Magazine
<저작권자(c)스마트앤컴퍼니. 무단전재-재배포금지>