2019년 05월호 지면기사 / Written by| Sang Min Han_han@autoelectronics.co.kr
한글로 보기
DANA's ELECTRIFICATION BLITZKRIEG
Opportunities for Heavy duty hybrid and eLCV
Steve Slesinski,
director, global product planning for Dana Commercial Vehicle Driveline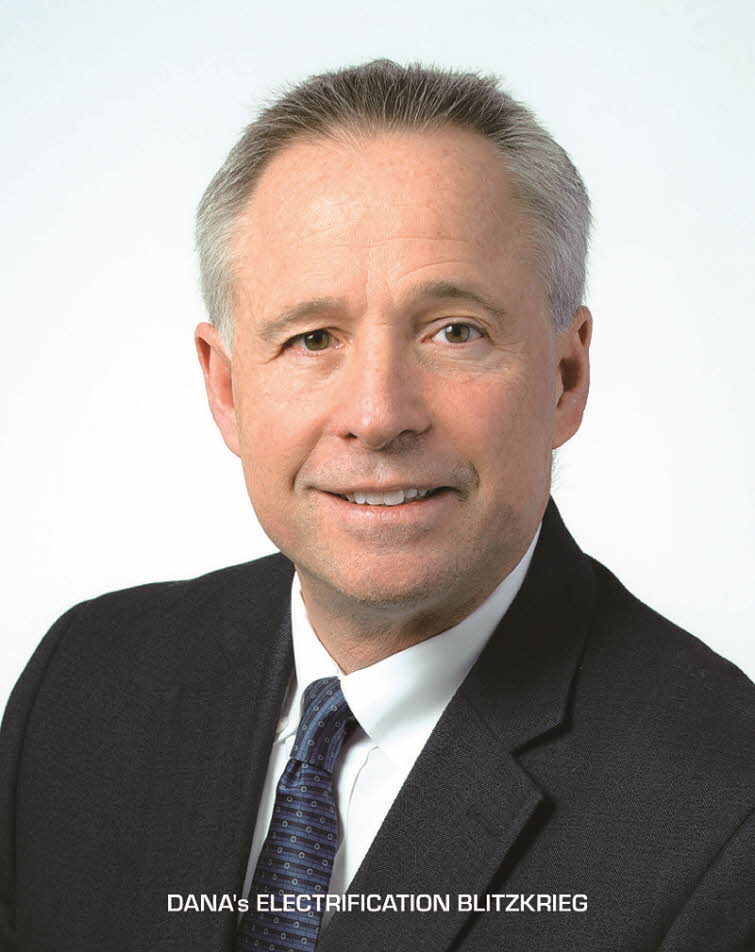 Dana is the only supplier to offer a full portfolio of electrification technologies across all markets, including passenger cars, commercial vehicles and off-highways, and has a very unique position in the market. Based on a strong understanding of electric vehicle gearbox and heat management, the company has quickly completed the switching of electrification by carefully developing products that supply to the market and acquiring or forming partnerships with major companies to distribute electric propulsion technologies.
I interviewed with Steve Slezinsky, director, global product planning for Dana Commercial Vehicle Driveline. Dana is seeing a big opportunity in the truck and bus market.

Written by| Sang Min HAN_han@autoelectronics.co.kr
Q.

In Korea, Electrification of trucks and buses is ready to start. I've seen reports from consulting companies about the current global status and prospects of truck electrification, but I would like to hear about the situation Dana is witnessing.
A: Dana sees the strongest adoption of electrification starting in city delivery and bus applications with defined routes that can create confidence in fleet vehicle battery range and charging station access. Applications using stop-start systems are already proving value to fleets and they see the opportunity to continue to improve their total cost of ownership.
Electrification in buses will continue to rapidly expand with medium-duty trucks following closely behind. For the heavy-duty segment, we expect full electrification to be limited in the near-term, but a strong emphasis will be placed on hybrid systems, especially for long-haul trucks.
Q. South Korea currently emphasizes the supply of hydrogen infrastructure, hydrogen trucks and hydrogen buses, but reports says diesel trucks in all segments mainly will be replaced by BEVs. What is the hydrogen truck market prospects?
A: Fuel cells are expected to become more relevant as adoption increases over the next 15 years. Hydrogen fuel cells will be especially important in mass transit, such as buses and even trains. The prospects of a hydrogen truck market will be largely driven by total cost of ownership, including hydrogen fueling station infrastructure, as owners evaluate them in comparison to hybrid and electric options.

Q. At the end of 2015, I interviewed George Constand. At that time, Dana showed only minor components such as the cooling system related to e-mobility at major exhibitions. I have not seen an e-drive solution. Now the portfolio is completely different. What was the situation of Dana with the industry at that time?
A: Over the last several years, Dana has been driving the company to become a leader in e-Propulsion technologies. The solutions we have been highlighting at our tradeshows the last 24 months are a result of the actions we have taken to organically develop technologies through a strong emphasis on research and development, as well as to add to the business inorganically with strategic acquisitions and partnerships. Dana's portfolio now includes the critical components for e-Propulsion, including low-and high-voltage motors, traction and accessory drive motors, induction and permanent magnet motors, inverters, gearboxes, controls, chargers and thermal management.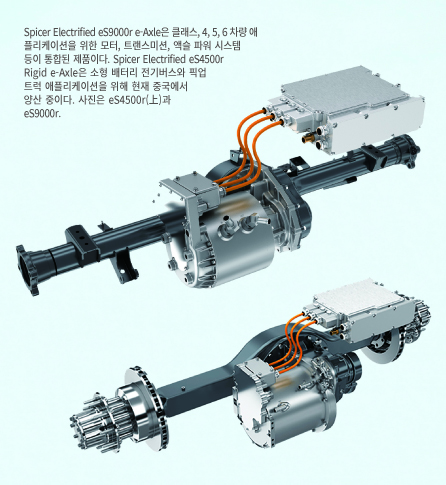 Spicer Electrified eS9000r e-Axle is an integrated motor, transmission, and axle power system designed for Class 4, 5, and 6 vehicle applications, while our Spicer Electrified eS4500r Rigid e-Axle(top) is currently in production in China for small battery electric buses, and pickup truck applications.

Q. Dana seems to have almost completed the readiness of electrification in a short period. Would you like to introduce milestone and efforts related to mergers and acquisitions, partnerships, R&D, re-organization and portfolio changes?
A: Dana is unique in its market position as it is the only supplier to offer a full portfolio of electrified technologies across the light vehicle, commercial vehicle and off-highway markets. Building on our strong understanding of electric vehicle gearboxes and thermal management, we carefully planned the strategy to acquire and partner with key companies to promote electric propulsion technologies to further advance our offerings for the markets we serve.

In June 2018, Dana announced the acquisition of a controlling interest in TM4, a motor and inverter supplier. Our partner Hydro-Québec is Canada's largest electricity producer and one of the world's largest hydroelectric power producers. The addition of motors and inverters to our portfolio made Dana the only supplier of fully integrated e-Propulsion systems, which includes the gearbox, motor, inverter, controls, and thermal management.

Then, in January 2019, we announced the acquisition of the SME Group. The group designs, engineers, and manufactures low-voltage AC induction and synchronous reluctance motors, inverters, and controls for a wide range of off-highway electric-vehicle applications, including material handling, agriculture, construction, and automated-guided vehicles. This acquisition enabled us to round out our motor and inverter offerings.

In February 2019, Dana closed on the acquisition of Oerlikon Drive Systems, which enables us to provide expanded manufacturing support for our off-highway customers in China, Italy, and the U.S. The Graziano brand has a strong competence in helical gears, which are a used in transmission, gearboxes and electric vehicle systems. This technology further expands Dana's e-drive systems capabilities to each of its end markets.

Most recently, we announced a strategic partnership with the electrification company Hyliion, which develops intelligent, electric-hybrid architectures and battery systems for Class 8 vehicles that can be installed on new trucks or retrofitted on existing trucks, essentially turning a traditional linehaul tractor into a 6x4 hybrid. Dana has taken an equity position as a lead investor, making Dana the source for traditional driveline components, as well as fully integrated e-Axles.

These acquisitions combined with our robust research and development will enable us to address the shift to electrification across nearly every size vehicle on the market.
Q. I think Dana have a business mainly supplies technology for the driveline, and this business does not depend on a specific area, vehicle, customer, or technology. How does it benefit to Dana in the great pressure of C.A.S.E megatrends?
A: Dana's product offerings span all of the major vehicle segments and customers in the light, commercial, and off-highway markets. Our business is made up of driveline technologies, both traditional and electrified, sealing and thermal management solutions, as well as motion products, such as winches, for off-highway and industrial equipment. We see a great opportunity for Dana to assist our OEM customers in delivering driveline technologies as they are faced with redeploying capital to address the emerging C.A.S.E. megatrends. The need to rely on companies like Dana to deliver innovation, efficiency, and systems integration expertise will become more critical as our customers must balance the demands across these megatrends.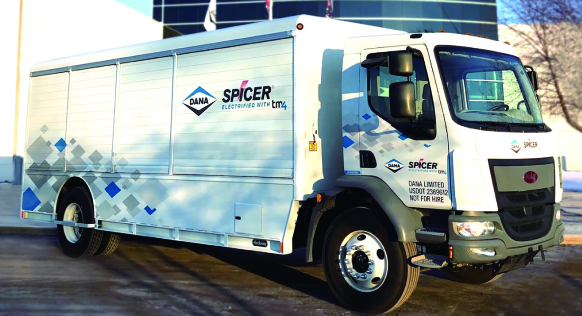 Peterbilt 220 testing eTruck
Q. In Korea, many people say that the implementation of battery-powered trucks in medium-to-large trucks, including heavy-duty trucks like Class 8, is unrealistic in terms of gross weight, mileage, power and charging time. On the other hand, Daimler, Volvo, Tesla and many other manufacturers are actually developing and testing these BEV trucks. Could you give me a clear answer for possibility?
A: Dana sees a strong opportunity for hybrid and electric vehicles in the commercial vehicle market. We believe the total cost of ownership for medium-duty electric trucks is especially compelling for vehicles that have defined routes, such as delivery vehicles or buses, which is where we see adoption taking place most quickly. When looking at Class 8, we see hybrid vehicle applications being a strong option for many of our line-haul customers, which is why we partnered with Hyliion, a company focused on hybrid applications and conversions.

From a weight perspective, it is important to remember that a fully electric truck's engine, transmission, fuel system, exhaust system and aftertreatment system would no longer be needed in the vehicle, which would limit the weight difference when adding batteries. To address this question for our customers, we launched a total-cost-of-ownership calculator on our website where fleets can do a comprehensive cost comparison between traditional diesel platforms and full-electric powertrains for a variety of applications.

Q. With regard to the electrification of trucks, buses, off-loading, will you introduce the driveline main portfolio, innovations, and strengths?
A: Dana has a complete portfolio of e-Propulsion solutions for trucks and buses. From individual components and systems to fully-integrated e-Axles, we are able to offer motors, inverters, controls, and thermal management expertise across Class 3 through Class 8 and off-highway applications. For example, our Spicer Electrified eS9000r e-Axle is an integrated motor, transmission, and axle power system designed for Class 4, 5, and 6 vehicle applications, while our Spicer Electrified eS4500r Rigid e-Axle is currently in production in China for small battery electric buses, and pickup truck applications. A full look at our portfolio is available at danaelectrified.com.

Q. One electric car fleet operator I met last week said that electric cars such as hybrids and BEVs are having a big problem with heat problems, battery life and so on. What are the major challenges to implementing a good electric truck and what solutions can Dana support with it?
A: Thermal management is one important factor to consider when looking at hybrid and electric vehicles. Dana has a long history of providing battery and electronics cooling for these vehicles and understands the dynamics of these systems. These vehicles will require cooling solutions that enable them to operate at optimum temperatures.

One additional consideration is the packaging of the system. Many customers are currently evaluating bolt-on technologies that convert current vehicles into hybrid and electric applications, however, over the long-term we expect that the industry will turn to fully integrated systems where the motor, inverter, gearbox and thermal technologies will be packaged to deliver maximum efficiency.

Q. A few years ago, Dana released a technology called Spicer SmartSuite. Does Dana currently contribute to the innovation of vehicles, manufacturing and operations through these connected drivelines?
A: Dana's physical products are enhanced by digital solutions such as sensors and controls that enable remote fleet management, data-and analytics-driven decision making, and advanced diagnostics and prognostics. For example, more than 10,000 trucks have been equipped with Dana's Rhombus TireAnalytics platform, which is a cloud-based tire maintenance and management software that offers real-time alerts for fleet owners. We recently launched our third generation of this technology to provide new cost-per-mile analysis capabilities and best practices to enable better data-driven decision making.

Q. Advanced materials such as plastics and aluminum and advanced manufacturing techniques would be used or studied for a variety of reasons, which will have a trade-off relationship with cost. What is current situation at Dana?
A: Dana utilizes a variety of materials in its products, including steel, plastics, and aluminum. We are regularly evaluating our products and manufacturing techniques to reduce weight, optimize packaging, and increase efficiency. Dana recently launched axles for Class 7 and 8 commercial vehicles that deliver the same strength and robustness with up to a 60-pound weight savings.

Q. Dana has been actively involved in business in China and other Asian and North American markets. Dana would be doing business with many customers in relation to electrification. Could you introduce me to this?
A: China remains the fastest growing electric vehicle market globally. Dana has a strong engineering and manufacturing presences in China to support both traditional and electrified powertrains. In fact, through Dana's acquisition of a majority stake in TM4, we already produced 12,000 TM4 SUMO™ electric powertrains, which are powering buses throughout 20 cities in China. We have also partnered with Lion Electric in North America to provide technology for buses and Class 8 vehicles. We have a number of projects under development and expect to see strong growth with our current customers as they launch new electric vehicles.



Through Dana's acquisition of a majority stake in TM4, Dana already produced 12,000 TM4 SUMO™ electric powertrains, which are powering buses throughout 20 cities in China.


Q. In Korea, there is a longing for hydrogen trucks and buses. What strength does Dana have in the hydrogen field? Is there any big difference between battery truck and hydrogen truck in terms of the supplier?
A: Dana is a market leader in the supply of components for hydrogen fuel-cells. We engineer and manufacture product solutions to meet the exacting requirements of our OEM customers, including fuel-cell stack bipolar plates, both metallic and composite, as well as balance of plant and hydrogen reformer components. Vehicles powered by batteries or hydrogen fuel cells each have unique requirements. Suppliers must have a full system understanding of the applications for each to really deliver the most value to the customer.

Q. Dana has not established a manufacturing facility in Korea since the liquidation of a joint venture called Korea Spicer Ltd in 1997. What is the Korean market for Dana?
A: Dana is located in 33 countries around the globe, including Korea where we have a sales office for Dana products, as well as a service and assembly center to support Dana's Brevini motion systems in the off-highway market. And, it has the function of Korean IPO to purchase Dana, and it is developing into an important global source base.
Korea is an important market and also an important supplier of Asia.
---

AEM_Automotive Electronics Magazine
<저작권자(c)스마트앤컴퍼니. 무단전재-재배포금지>